Would you like us to work with your child, but you're unable to travel to our locations?
We offer Distance Learning!
Our online sessions are very similar to working with the student in one of our centers. We work with them on a one-to-one basis, and usually, it is just the student and clinician working together. If the child has a hard time sitting still and staying on task, the parent would have to be in the room to help with this.
We can start working with your child online from the beginning, or some students start at the center and then once they have gone part way through the program we change to working them online in order to continue their sessions.
To start, we complete an intake evaluation – either in person or online. The student would receive a list of supplies needed, and we would supply some of the materials on a weekly basis through email.
What's required:
The ability to use a webcam and online chat software.

A strong internet connection is a must.

A set of good headphones are also helpful to help them stay on task.
We will work with your child 2-3 times per week, and to keep things consistent, our appointments would be scheduled at the same times every week.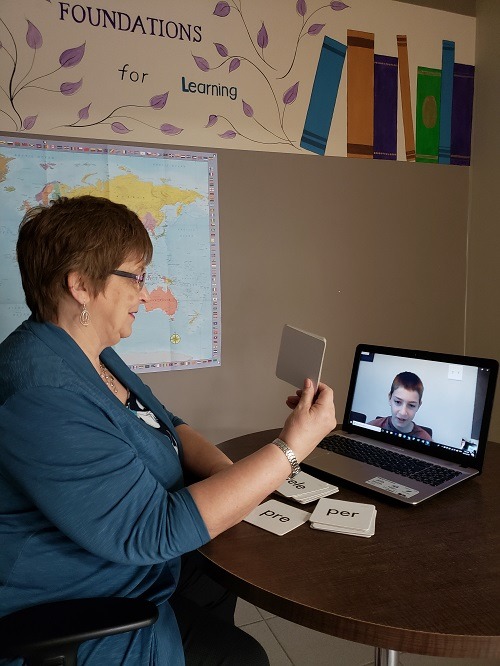 ---
Have Questions or Ready to Get Started?
Contact Us Today!
---
What Clients Have Said…
"We have been doing our lessons via Skype for about 3 years now. Bryce likes that he can work in the comfort of his own home. In the years we have been working with Sharon Bryce has been doing Extraordinarily well. Meet via video chat has not deterred him from excelling. I think in some ways it has helped. Thank you for all you do, Bryce would not be where he is today if it wasn't for your patients and guidance as well as all his hard work." – Lee Ann G.
"I can't say enough about how Sharon at Foundations for Learning has helped our daughter! I also love the convenience of the chat software and not having to commute to a tutor. The systems are amazing and personalized. Our girl jumped a couple of grade levels in word reading, spelling and comprehension after working with Sharon twice a week for the last year and a bit. I highly recommend Sharon and her company!" – Denise S.
"I have Dyslexia and Sharon teaches me in the way that I can learn. I like doing my lessons on the webcam at home because there is less of a distraction and Sharon can schedule a time that works best for me. I like doing Raz Kids and it supports me in reading. I like that I can finally read!" – Bryce G.
"Our son has been working with Sharon at Foundations For Learning for over a year now. As we live an hour away we have been using the webcam for his reading lessons. Using this tool, our son is able to be in his own environment where he feels more comfortable. When our son started lessons he was below his grade level in reading, but with hard work and Sharon's patience's and teaching techniques, he is now catching up. Sharon has not only helped him with his reading but also with his confidence to do so. Our son has become a confident reader with all of her help. This proves that distance learning works just as well as sitting face-to-face with someone." – Lee Ann G.