Is math just a bunch of numbers to your child?
We can change that!
Does your child…
Struggle with the basic math facts and computations?

Seem to know the number facts one day but not the next?

Become frustrated with even simple word problems?

Become overwhelmed when a new concept is introduced?

Doesn't understand the concept of money or time?
We can make mathematics easier!
---
At Foundations for Learning, we start at the beginning, making sure that your child understands the mathematical fundamentals. We believe that by building a strong foundation in adding, subtracting, multiplying and dividing, our students will have the tools they need to understand and conquer mathematics in the higher grades.
So, your child will…
understand the concept of numbers and what they mean in the world.

be able to picture numbers on the number line in their "mind's eye".

learn what it means to add and subtract numbers.

become familiar with multiplication, division, fractions, and decimals.
Using manipulatives and imagery, math WILL become easier for your child!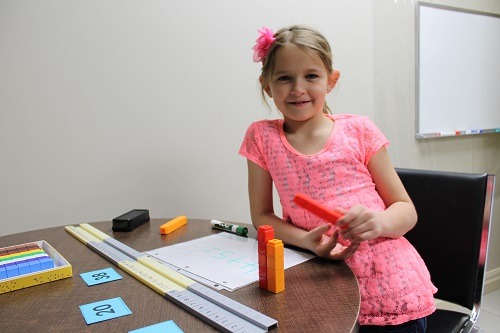 ---
Have Questions or Ready to Get Started?
Contact Us Today!
---
What Clients Have Said…
"My 8-year old daughter Emiley is in grade 3 and was uninterested in school. She struggled to grasp the basic concepts of math. Although she seemed to be unfocused in class, she wasn't disrupting the class; therefore, "slipped through the cracks." After report card day, I met with her teacher and discussed alternatives for Emiley. I asked her teacher about Mariposa, which is now Foundations for Learning. The teacher's response? "It is a phenomenal program." Sharon has been working with Emiley since November 2014 and her grades have improved drastically. Along with her academic improvement, she is focused in class, eager to participate, enjoys doing her homework, and cannot wait until she meets with Sharon! It warms my heart to see Emiley enjoy school and come home with a smile on her face." – Jenn B.
"Thanks to Sharon's summer math program, our son, Ty is top five in his grade 4 class for multiplication quizzes! Ty had difficulty at the end of grade 3 understanding multiplication; turns out it was because he never fully understood how to add and subtract. At Foundations for Learning, Sharon goes back to the basics and Ty really enjoyed the summer. You can see the self-confidence and excitement on his face. Thank you, Sharon!" – Leslie
"We love how we are treated at Foundations for Learning. It is always a positive experience. Sharon has been wonderful to our son!" – Kim & Garth H.